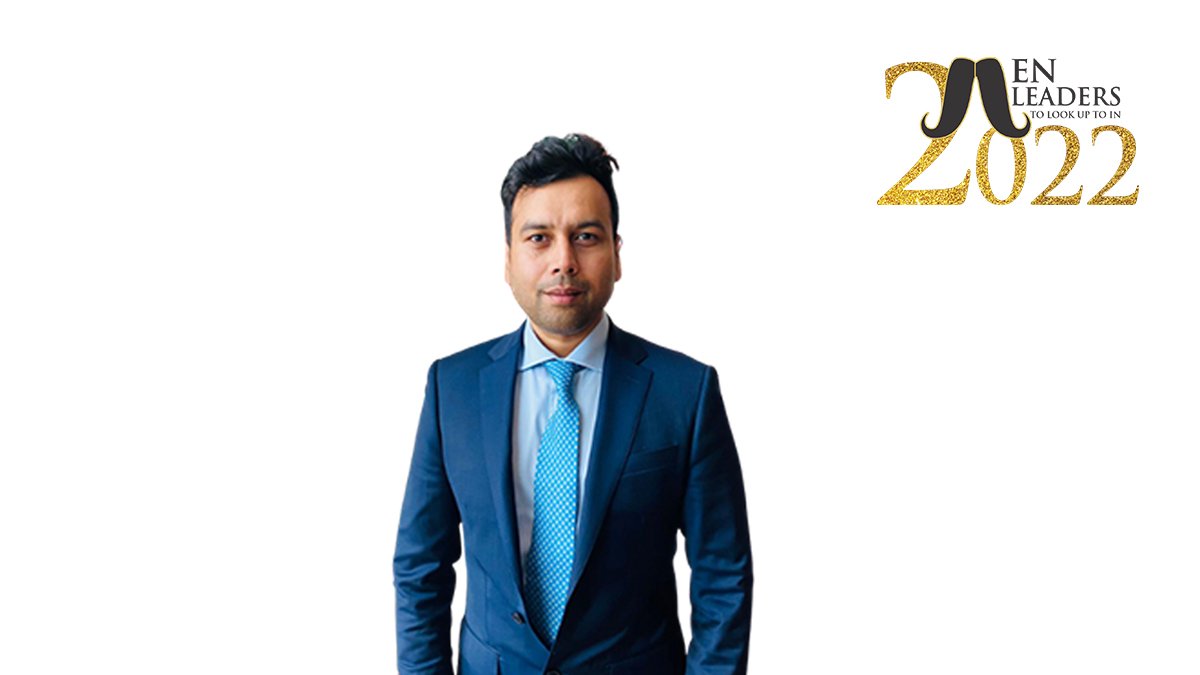 Passion Vista is dedicated to sharing the inspiring stories of some of the most revered men leaders from around the globe whose long list of achievements is just a sliver of their magnanimous careers. With the highly-anticipated "Men Leaders 2022" issue, Passion Vista pays tribute to these exceptional individuals and their passion journeys. So join us as we celebrate the achievements of these disruptors and be inspired by their resilience, drive, and unwavering commitment to excellence.
Envisioned building a truly advanced Diagnostics platform Pan-India which is affordable to all, Dheeraj Jain founded Redcliffe Labs which is today backed by major impact and world-class long-term investors to build and scale Redcliffe as an institution.  In a span of 2 years when it entered into routine testing, it has taken the spot of India's fastest-growing pathology organisation collecting and processing samples from nearly 10000 families every day across 180 cities (nearly 250K+ tests a day), largely home collection through the digital channel but also across 1000+ Collection Centers. The turning point in Dheeraj's life came when he reflected deeply upon the healthcare situation in India and why a large section of the population does not have access to high-quality, affordable diagnostics.
Dheeraj started his career in 2001 in management technology consulting in London and moved to Finland with Nokia in 2002 where he spent 9 years across major functions and was groomed as the next CXO. He did his MBA at Cass Business School, London. He left Nokia in 2011 and thereafter worked in Leveraged Buyout market in London and New York. Mr. Jain has also been credited with creating an active mid-market LBO market for outbound Indian M&As. He returned to India while building his own early-stage investment portfolio of 50+ and now many successful startups, he was known as the most prolific angel investor of 2016 by the Economic Times. During 2017-18, he also co-created the renowned brand 'PeeSafe' around women's Health before starting Redcliffe labs.
Redcliffe Labs over the last 4 years has built a comprehensive portfolio approach both with routine and specialised test menus along with advanced testing labs all over India. Its digital-first approach with on-demand 1 hour home collection and same-day report is disrupting the way diagnostics is delivered today and thus it is growing fast in India. Their presence in 180+ cities across India with over 40+ Laboratories equipped with the latest technology ensures accurate and clinically reliable test results on time.
In 2018, the company set up a lab in Delhi, a clinical team, and a portfolio of tests, including genetic testing and maternal health diagnostics.  By the end of the year, Dheeraj and his startup went to the market. It worked with scientists and doctors, who started doing testing for their patients by sending samples to these labs, ensuring faster turnaround time and affordable pricing. The onset of COVID-19 needed a genome sequencing of the virus and Redcliffe along with its experience and PCR infrastructure conducted COVID-19 testing.
On May 19, 2022, a drone carrying the blood sample of a patient in a 5 kg temperature-controlled payload travelled from Gyansu near Uttarkashi, a small, hilly town in Uttarakhand, to Vivek Vihar in Dehradun at Redcliffe Lab's diagnostic centre. The first commercial drone flight completed the journey in 88 minutes which would have otherwise taken 6 hours by road.  The sample was tested and the company sent the result to the customer the same day. The project was a part of the Redcliffe Labs' tie-up with Skye Air Mobility, a drone delivery tech startup.
Redcliffe Labs is providing 3500+ tests across its wide network of labs and collection centres. The test portfolio is very wide including routine pathology tests, advanced genetic screening, and research-based DNA tests in reproductive health, cancer and wellness/fitness.
Their mission is to reach 500 million Indians by 2027. To help achieve its target, Redcliffe Labs is in an aggressive expansion mode and will use the funding to reach out to Tier 3/4/5 towns and cities.
His entrepreneurial abilities have sought him great success and Dheeraj was a guest lecturer at City University London and invited speaker at Ross Business School, Michigan USA. He was awarded the Bharat Gaurav award in British Parliament in 2015 for his impactful work across domains. To know more about Dheeraj, check www.passionvista.com or to nominate email, [email protected]