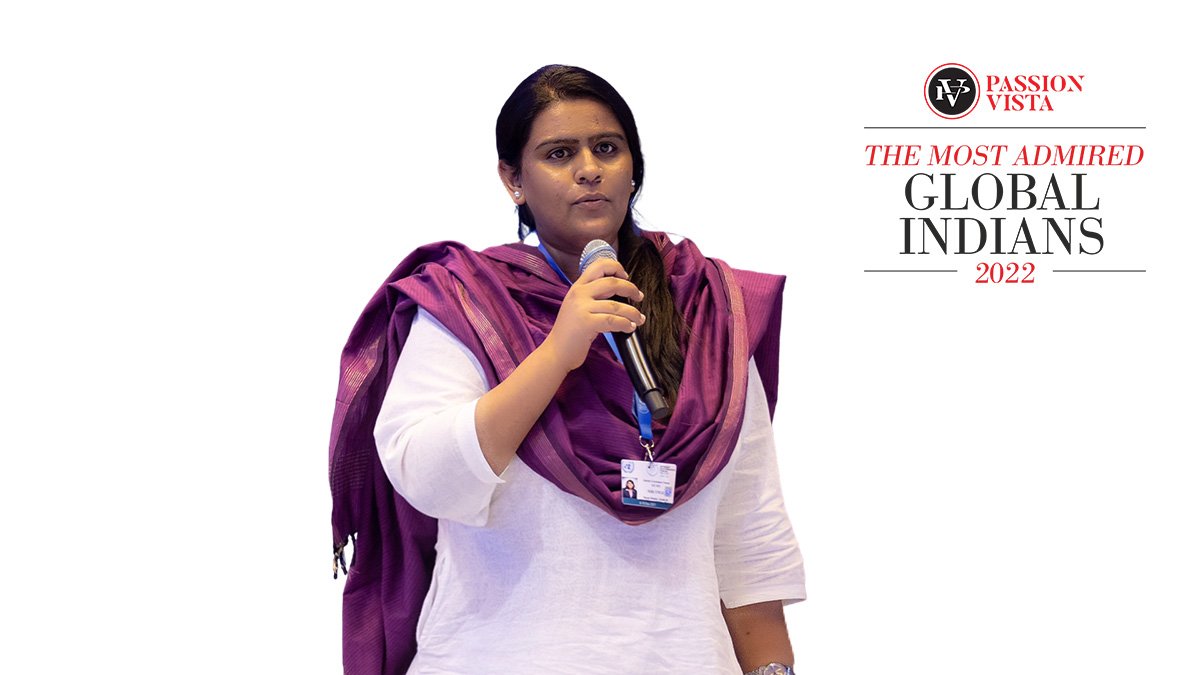 Passion Vista is proud to share the success stories of some of the most prolific and illustrious Indian leaders who have made a mark on the global front. Their charisma, diligence, a multitude of virtues, powerful personality, insurmountable goodwill, and cascading influence makes them stand out from the rest. The highly anticipated "Most Admired Global Indians 2022" issue keeps in mind this ethos to present stories of such mavens who have left no stone unturned for their work to get thunderous applause worldwide. We present to your their passion journeys.
One of the most promising names in the legal space, Nidhi Singh has garnered all the coveted distinctions in her journey to become an award-winning Advocate and Law Faculty. An Independent Counsel for the Delhi High Court and Supreme Court of India, her specialism lies in Financial and Regulatory Laws, Public Laws, Policy and Regulation, and Economic offenses.
Nidhi's global journey began in the small Indian town of Dhanbad, Jharkhand, where she was born to an extremely supportive father who is a Government Civil Contractor and an absolutely caring mother who is a disciplined homemaker.
She completed a degree in Law and passed out as a Gold Medalist from KIIT School of Law, Odisha. Thereafter, she went on to pursue MSc Law and Finance from University of Oxford on two full scholarships as Louis-Dreyfus Weidenfeld Scholar and Chevening Scholar. She then studied Economics for Competition Law from King's College London, and Public Policy from Harvard Kennedy School of Government, USA. Currently, she is enrolled as a JSM & SPILS Fellow at Stanford Law School, USA, specializing in Law, Science and Technology.
Apart from practicing as a Counsel with the Supreme Court of India and Delhi High Court in civil and criminal litigation, Nidhi has previously worked as Legislative Assistant to Member of Parliament, trained the IAS, IPS and IFS Officers of India at Lal Bahadur Shastri National Academy of Administration, acted as an Investigating Officer at Competition Commission of India, and worked as an Associate in Competition Law with Trilegal (Tier I Law Firm) Mumbai.
Presently, she is serving as Frédéric Bastiat Fellow at Mercatus Center in George Mason University, USA and as a Visiting Faculty in Law at leading law schools of India – NLSIU, Bangalore; NALSAR, Hyderabad; and NUJS, Kolkata. She is also the Deputy Director at Centre for Artificial Intelligence, Law & Society and Centre for Competition Law & Policy.
Nidhi realised her dream of working as an Independent Counsel when she became a Partner at BlackPearl Chambers, Advocates & Solicitors. Prior to that, she had worked with all the three wings of the government – judiciary, legislature and executive. However, Nidhi wanted to create her own kind of work wherein she had the liberty and flexibility to work on hard core areas of her legal interest. For her, this meant working at the intersection of litigation, policy-advocacy and teaching.
She opines it is utmost important to evolve one's practice with the times. Yet, good, affordable and efficient legal services should always be the order of the day. With that philosophy, her team of lawyers are in the process of creating an online platform whereby laypersons can 'build/draft' their own agreements based on prompts provided to them by the system. Furthermore, the first consult is free of charge. This allows them a fact-finding mission to determine whether or not the case is worth pursuing.
This grit and leadership during tough times has seen Nidhi receive global accolades, some of which include:
Forbes India Award 2022 for Top Individual Lawyers of India.
Lex Falcon Award 2022 for Top Emerging Lawyers of India.
Indian Achievers Award & Women Achievers Award, 2022, for contribution to the legal profession.
Research Excellence Award for contribution towards legal academics.
Presented work on various aspects of Law at Harvard, Yale, Stanford, Oxford, Cambridge, United Nations, World Trade Organisation, World Bank, ETH Zurich.
Appointed as Frédéric Bastiat Fellow, Mercatus Center, George Mason University, USA.      
Published around 70 research papers in journals, newspapers and blogs of national and international repute.
Member, Global Shapers, World Economic Forum.
Summing up her passion in one line, Nidhi exclaims, "A life that is lived with purpose, not driven by accolades." To know more about Nidhi, check www.passionvista.com or to nominate email, [email protected]
Disclaimer: This content is provided by Passion Vista and distributed via Digpu News RSS feed.